Pasaron varios años desde que Wizards había tomado la decisión de eliminar los Core Set de Magic, pero, como en la vida nada es para siempre, en unos pocos días tendremos con nosotros al Core Set M19. Y, para que no sea un simple regreso sin pena ni gloria, Wizards ha decidido patear el tablero con un set de cartas que seguramente revolucionarán bastante uno o varios formatos.
Como acostumbro siempre, vamos a repasar las cartas que más me impactaron (siempre pensando en el ecosistema de Standard).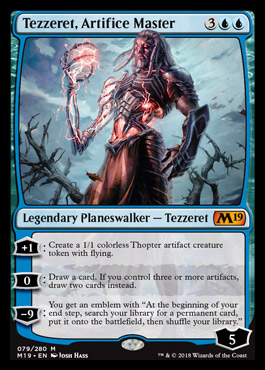 El ciclo de Walkers no me sorprendió demasiado. Estaba pensando en incluir a Ajani, pero no me terminó de convencer. Liliana es muy jugable, pero depende de juntar una cantidad de Zombies que la hagan relevante. Así que me decidí por Tezzeret. Que genere Thopters subiendo lo hace muy bueno y que robe cartas por 0 lo hace más que bueno. Veremos si le da la nafta para ver juego en t2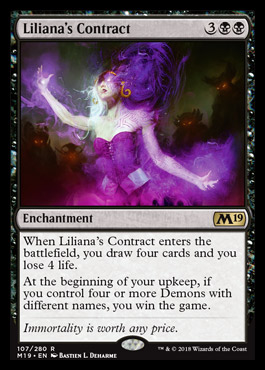 Esta carta me produce cierta curiosidad. Cinco manás y robás cuatro cartas. Que se yo, no está mal.
La segunda habilidad está muy de más porque si lográs meter cuatro demonios en juego (que generalmente son 5/5 o más grandes y vuelan) probablemente ya ganaste aunque no tengas esta carta en juego.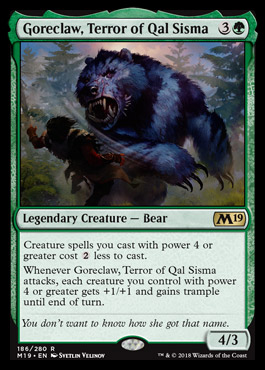 ¿Gearhulks por 3 manás? ¿Efecto overrun en tus bichos de fuerza cuatro o más cuando este bicho ataca? Suena más que interesante. Además el verde único en su coste lo hace super splasheable.
Un lord justo después de Dominaria, que si hay algo que nos trajo a nuestras vidas fueron varios Knights que pueden nutrirse de él. Ni hablar de
History of Benalia
.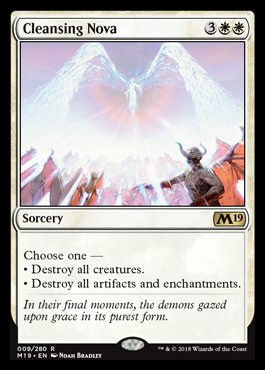 Cleansing Nova
tiene todo lo que un removal masivo busca: versatilidad. Con tanto
Cast Out
, Vehículos y otro tipo de encantamientos dando vuelta, este removal puede ser clave para nunca ser una carta muerta en nuestra mano. Va a ver muchísimo juego, sobre todo cuando rote Fumigate.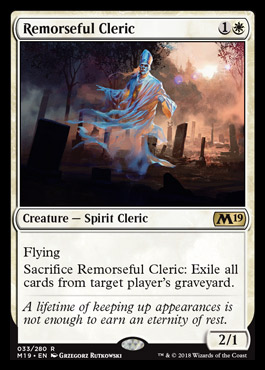 Si hay algo que recordamos del
Selfless Spirit
es que, obviamente más allá de su efecto, era una 2/1 vuela por dos maná que nos sacaba un par de daños. Este Cleric viene por la misma senda. Mismo coste y stats, pero remueve todo el tacho. Gearhulk azul, Search for Azcanta, Scarab God, los estoy mirando a ustedes.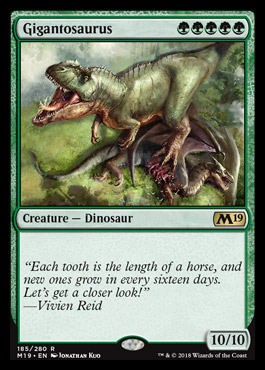 ¿Hace falta decir algo? La pregunta que hay que hacerse es hasta cuánto va a seguir forzando Wizards la relación coste/stats de las criaturas verdes. Más allá de sus temibles stats, otra hermosa compañera de Ghalta.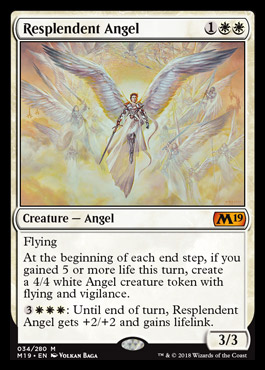 Ya una 3/3 vuela por tres manás. Y encima tenemos varios agregados que la hacen una carta muy zarpada. Además es la compañera ideal para Lyra. ¿Y lo mejor de todo? No es legendaria. ¡Vengan esas cuatro a los mazos blancos!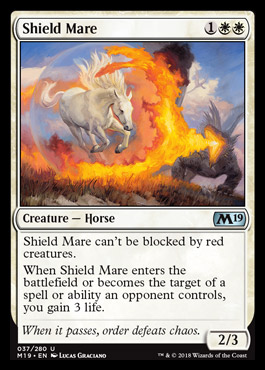 Puse la blanca pero me voy a referir al ciclo de Mares. Todos son muy interesantes y suelen tener efectos muy molestos para los mazos a los que targetean. Y, de paso, pueden molestar a otros. Por ejemplo el negro que da -1/-1 a las criaturas del oponente. Ya vimos con el Goblin que nos dio Dominaria lo importante que puede ser con estas mesas actuales de Standard. Pero repito, seguramente todos vean juego porque tienen un impacto interesante.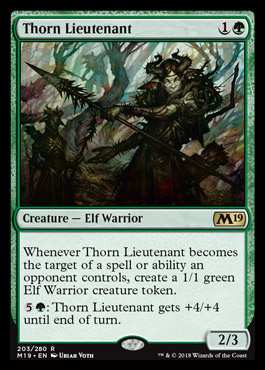 Interesante bicho que es 2/3 por dos manás como antes solía tener verde con, por ejemplo, el Advocate. Encima nos deja un 1/1 cuando lo targueteamos y es útil en el late game. Muy linda criatura.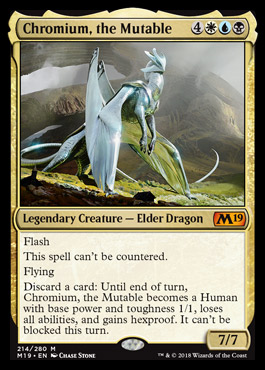 El ciclo de los dragones de tres colores es una locura. Todos son buenos y con altas posibilidades de ser jugados. Pero este me llamó muchísimo la atención. Por fin una sólida wincon para el Esper Control. Ni hablar en el mirror. Tiene todo lo que quieren las wachas: flash, incontrarrestable y de fácil inmunidad a removals del oponente.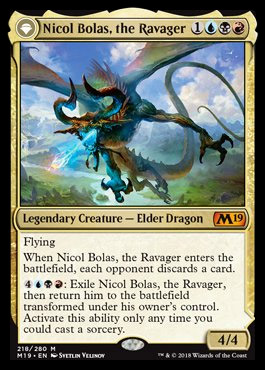 Y si hablamos de dragones interesantes no podemos dejar de referirnos a
Nicol Bolas
. Por 4 manás, 4/4 vuela y genera un descarte del oponente. Y cuando juntamos 7 maná podemos flipearlo y transformarlo en: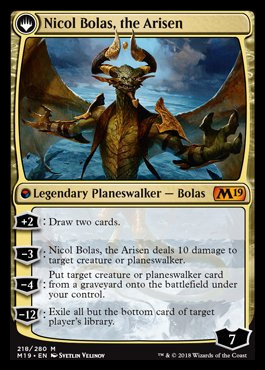 ¿La victoria? DES-TRU-I-DO
Menciones de honor: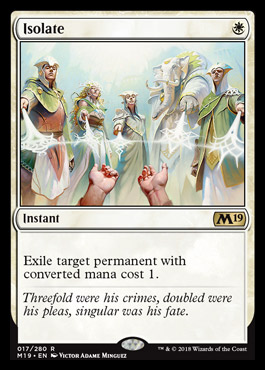 Isolate
seguramente no tenga gran impacto en Standard, pero en Modern y Legacy va a hacer estragos. Ya con pensar en Modern podemos pensar en: Vial, Death's Shadow, Lantern, etc…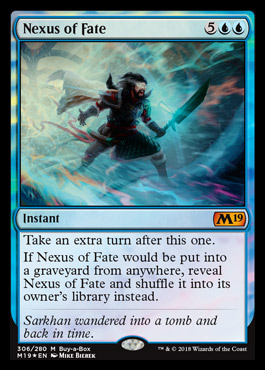 Staple de Commander desde hoy hasta el fin de los tiempos.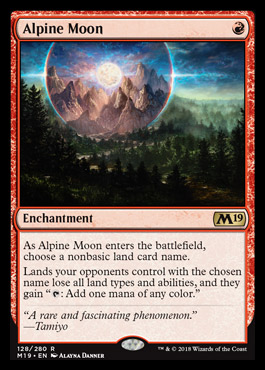 Una carta que puede llegar a lograr un efecto similar a
Blood Moon
sin comprometer nuestras tierras también. ¿Ya no saben como intentar bajar a Tron, no?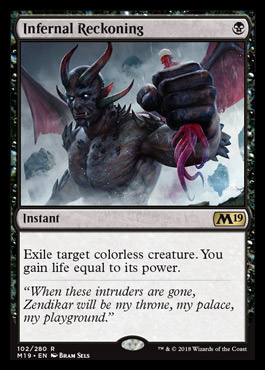 ¿Y saben qué? He dejado cartas afuera de este listado para no hacer tan extenso este listado. Los demás lords que han salido también pueden llegar a ver mucho juego, los planeswalkers... No, no, si les digo que este Core Set va a dar que hablar es porque va a dar que hablar.
Además vamos a poder disfrutar de un Standard bastante grande con un montón de ediciones incluídas hasta octubre. Sin repetir y sin soplar: Kaladesh, Aether Revolt, Amonkhet,
Hour of Devastation
, Ixalan, Rivals of Ixalan, Dominaria y M19. Uff. Va a estar lindo, eh.
Sobre todo porque vamos a tener en muy poco tiempo el Nacional que, al no tener GP, podemos decir que es la gran fiesta anual que tenemos con este hermoso juego.