Después de la melancolía de haber pasado por Dominaria y de haber vuelto a vivir un Coreset, como hacía años no pasaba, llegó la hora de seguir recordando las mejores épocas del Magic. Sí, señores, volvemos a Ravnica.

Guilds of Ravnica será legal en dos semanas y con ello viviremos una gran rotación en Standard. Como vimos la semana pasada, le diremos adiós al bloque de Kaladesh/Aether Revolt (uno de los bloques más destruidos de la era moderna de este juego) y al de Amonkhet/
Hour of Devastation
. Y acá, como siempre, te traigo mi top 10 de los spoilers que veo más relevantes a la hora de encarar un nuevo Standard. Tengan en cuenta la dificultad de esto, ya que es un cambio muy grande el que se vivirá en el formato, y es bastante complicado ver y analizar las cartas teniendo en cuenta que desconocemos cómo se desarrollará el mismo.
Pero antes de todo eso vamos a ver rápidamente las nuevas mecánicas de la expansión:
Mentor:
Mentor dice que cuando una criatura ataque le puede poner un contador +1/+1 a otra criatura atacante con fuerza inferior a ella. Sencillo.
Surveil:
Surveil es un scry que al ver una carta, si no queremos dejarla en el tope, podemos tirarla en el cementerio. La mecánica más fuerte de la expansión.
Undergrowth:
Undergrowth básicamente hace una acción igual a X, donde X es igual a la cantidad de criaturas que tenés en el cementerio.
Jump-Start:
Jump-start nos permite jugar un hechizo con dicha habilidad que tengamos en el cementerio, exiliándolo, pagando su coste y descartando otra carta de la mano.
Seguramente aparezca una nota explicando todo esto más en profundidad, pero no quería adentrarme en el top 10 sin haber explicado rápidamente dichas habilidades. Ahora sí, arrancamos: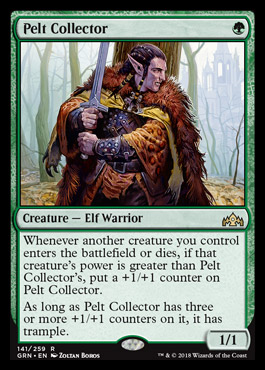 Todos recordamos el potencial que tuvo el
Experiment One
en Standard. Esta es una criatura bastante similar, perfecta para un mazo Gx curvero y bichero. Imagino viéndolo casi con seguridad en este Standard.
09 - Response/Resurrenge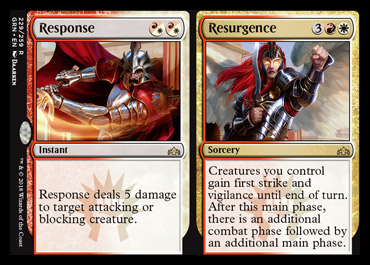 Este ciclo de cartas dobles es muy interesante principalmente porque las enfocaron en que sean versátiles. Elegí esta porque me parece muy bueno que por un lado sea un siempre necesario removal, y la segunda parte es espectacular como finisher de mazo aggro. Interesantísima por donde se la mire
08 - Connive/Concoct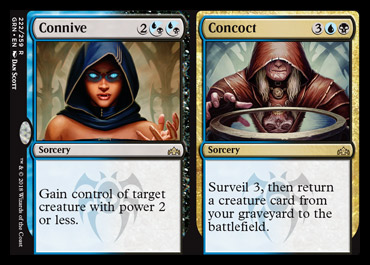 Esta sería la otra carta que me gustó bastante de este ciclo. Por un lado, podemos robarnos una criatura de fuerza 2 relevante en la mesa. Y la segunda nos da la opción de hacer Surveil 3 (que es un montón) y luego poner una criatura del tacho en juego. No sé si es necesariamente mejor que Response/Resurrenge, pero me gusta bastante.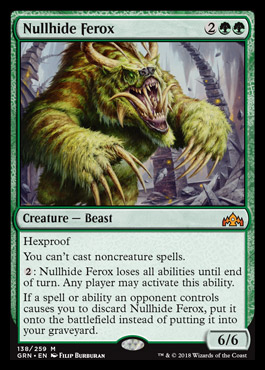 Cómo le está gustando a Wizard sacar bichos verdes con Hexproof, papito. Y esta carta me parece sencillamente increíble. Por 4 maná es una 6/6 hexproof. Es cierto que pueden pagar dos para que lo pierda, pero eso significa que necesitan bastante maná para sacárselo de encima. Imaginen jugarlo con algún rampeador turno 3 OTP. Terrible. Si bien tiene el tema de que no podés castear hechizos de no criatura, en un mazo verde super bichero no es algo que no podamos sobrellevar (quizás post sb con más Walkers y esas cosas cambiaría un poco el tema).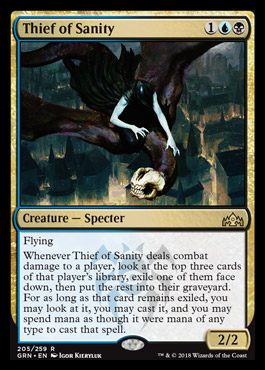 Qué es lento y muere a casi cualquier removal, es verdad, pero la habilidad es sencillamente espectacular. Porque el gran value que tiene es que, a diferencia de lo que fue en su momento el
Nightveil Specter
, la carta exiliada se puede seguir jugando aunque el bicho muera. Y encima podés usar cualquier color de maná para jugar esos hechizos. Es muy buena, realmente. Ojalá se juegue.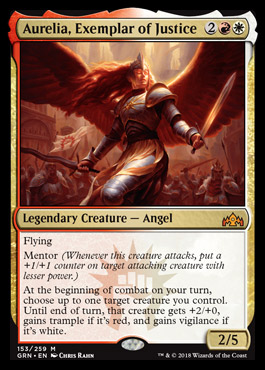 Este tipo de criaturas tope de curva de aggro suelen ser blanco o negro: o se juegan bocha, o pasan rápido al olvido. Lo que tiene de bueno Aurelia es que ya logra un efecto el turno que entra. Si tenemos una criatura RW con First Strike, la transformamos en una 4/2 First Strike, Vigilance, Trample. Y luego la misma Aurelia puede ganar esos atributos y encima mentorea a otro bicho. Me parece bastante completa.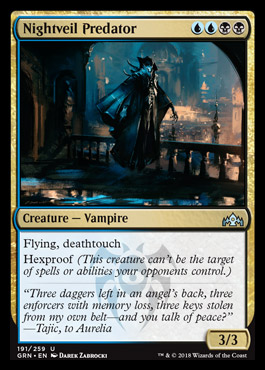 Una carta simple sin mucho misterio y que promete ser muy molesta. Tiene todo lo que querés de una criatura: evasión, hexproof, y encima tiene deathtouch. Creo que es una carta que en UB se va a jugar bastante.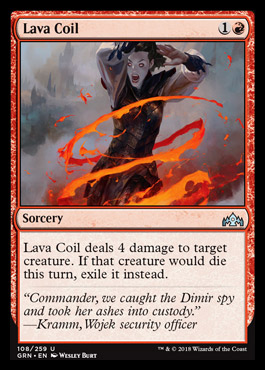 Phoenix, te estoy mirando a vos. Ya vimos con Cut/Ribbons en el Standard pasado que dos maná y hacer cuatro daños está bastante bien. Si a eso le sumamos que exiliamos a esa criatura, lo hace genial. Imagino que se jugarán al menos dos copias en los mazos con rojo.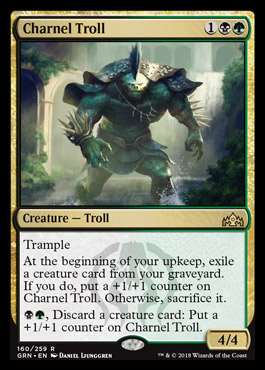 Quizás me estoy emocionando mucho poniéndola segunda, pero me parece muy zarpado este bicho viendo cómo se viene la mecánica de Surveil. Lo único malo es que no se puede regenerar como otros Trolls del pasado, pero ya tiene buenos stats y encima le ponés contadores todo el tiempo. Ah, y arrolla. Completita.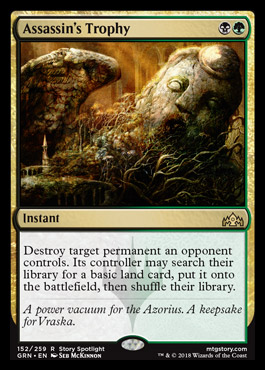 Nadie va a dudar de este primer puesto, ¿no? ¿Hace falta explicar ALGO de esta carta? Sobran las palabras.
¿Estás de acuerdo con el top? Ahora sólo resta esperar a que se legalice el set para empezar a disfrutarlo en Standard. Ojalá que sea un formato sano y con mazos diversos, como viene pasando últimamente.
¡Hasta la semana que viene!